Bill Murray tweeted a while ago: 'Chocolate comes from cocoa, which is a tree. That makes it a plant. Chocolate is salad.' We endorse that – and add that our favourite brown food also has an array of positive effects on our emotions, brain and psyche. We recommend daily consumption of chocolate and not just for this reason. Best eaten in the form of our Chocolate cake with dark chocolate coating.
Happy Cooking!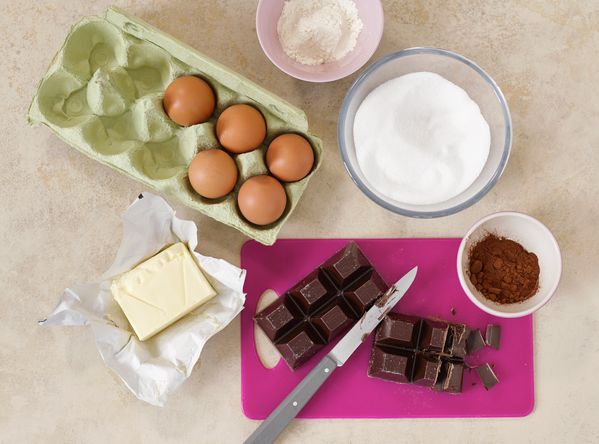 Ingredients for a springform cake tin:
(Ø 20-22 cm, approx. 10 pieces)
150 g dark cooking chocolate
100 g butter
5 eggs (Size M)
140 g sugar
Pinch of salt
3 tbsp cocoa powder
90 g flour
1 tbsp baking powder
150 g red currants
1-2 fresh peaches
2 tbsp icing sugar for dusting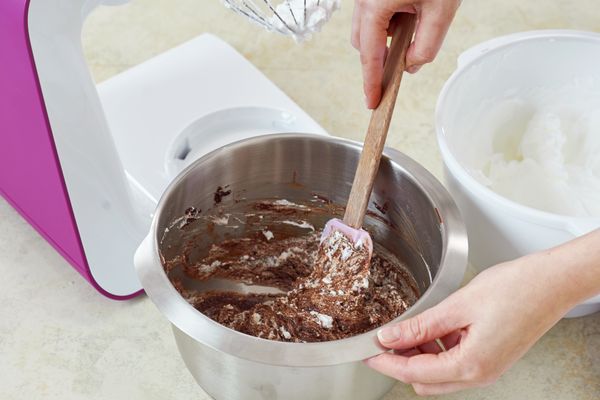 Step 1:
Break cooking chocolate into small pieces and melt with the butter over a pan of boiling water.
Ingredients: 150 g cooking chocolate, 100 g butter
Utensils: Chopping board, knife, saucepan, wooden spoon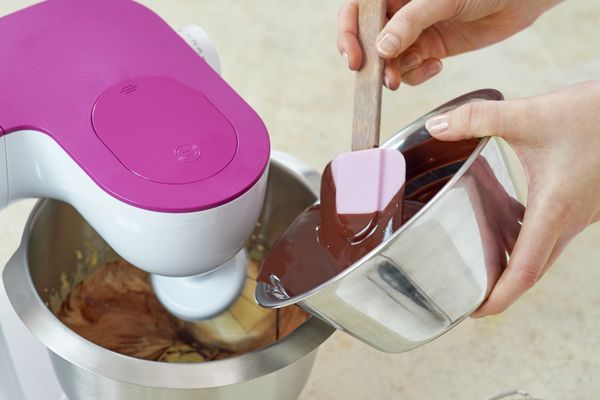 Step 2:
Separate the eggs. Whip the egg yolks, 60 g sugar and salt to a light and creamy consistency in a food mixer. Mix together the cocoa powder, flour and baking powder. Add the chocolate and butter mixture to the creamy egg mixture and continue beating. Stir in the flour quickly. Beat the egg whites until stiff. Gradually add the remaining sugar and continue beating until the sugar has dissolved. Fold the beaten egg whites into the egg yolk mixture.
Ingredients: 5 eggs, sugar, salt, cocoa powder, flour, baking powder
Utensils: kitchen machine e.g MUM 5
Step 3:
Pour the cake dough into a greased springform tin (Ø 20-22 cm). Bake in a pre-heated oven at 160°C (140°C fan, Gas 2) for approx. 35 minutes (skewer test) Leave cake in the tin on a wire rack to cool.
Utensils: Springform cake tin, wooden skewer,
wire rack
Step 4:
Wash fruit. Cut the peaches into slices. Distribute the peach slices and red currants evenly over the cake, dust with icing sugar and serve.
Ingredients: 150 g red currants, 1-2 peaches,
icing sugar
Utensils: Chopping board, knife, sieve
Per piece approx.:
305 kcal
16 g F
34 g CH
6 g P
Preparation time: approx. 25 minutes
Baking time: approx. 35 minutes
Enjoy!