Like a pro: cooking with kids – healthy recipes
Healthy mini meals your children will love.
When it comes to cooking healthy food for your children, the grocery shopping is usually the easiest part. Getting your kids to actually eat the healthy dishes you prepare can be a lot harder. With our following nutritious recipes, those times are over. Read more about our healthy recipes that (not only) your children will love.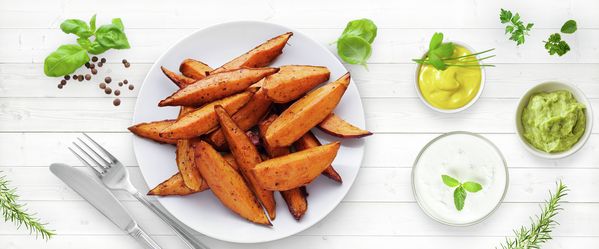 Baked sweet potato fries.
Healthy alternatives for French fries are baked sweet potato fries. Sweet potatoes are one of the most nutritious vegetables: their vitamin A keeps eyes healthy and acts like an antioxidant in the body. Prepared deliciously crispy on the outside and tender on the inside your children will love them. The best thing: one baked sweet potato contains over twice the amount of vitamin A you need for the day!
Per 4 servings
3 large sweet potatoes
One tablespoon olive oil
Sea salt
Black pepper
Sweat smoked paprika
Preheat your oven to 200ºC. After washing the sweet potatoes under cold running water, cut each one in half lengthways and keep halving until you end up with 8 wedges per potato. Put the potatoes into a large mixing bowl, and then sprinkle over a tiny pinch of sea salt and black pepper, a teaspoon of sweet smoked paprika and one tablespoon of olive oil. Spread the potatoes out into a single layer in a large baking tray, and bake them for 35 to 40 minutes, or until golden and cooked through.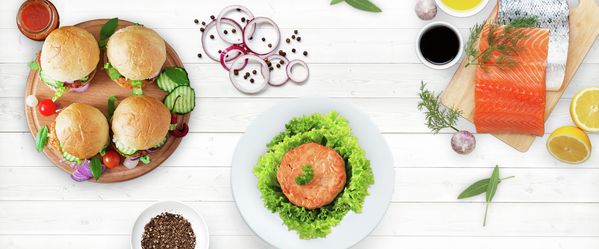 Mini salmon burger.
You never thought about serving salmon to your children? Well, you should because salmon is an excellent source of high-quality protein which kids especially need for proper growth. Its Omega-3 fatty acids also are essential for brain development and a healthy heart. Prepared as mini burgers, your children won't be able to get enough of this delicious and nutritious dish.
Per 4 servings
½ small red onion (about 45gr), roughly cut
½ cup tightly packed cilantro
24oz (700gr) salmon fillet, skinless
1 large egg
1/3 cup (20gr) Panko
2 cloves of garlic
2 tablespoons soy sauce
1 tablespoon sesame oil
½ tablespoon fresh dill, or dill paste
½ teaspoon salt
2 tablespoons olive oil
Put onions and cilantro into your kitchen machine and pulse until finely chopped. Then add the salmon, egg, panko, dill, sesame oil and soy sauce. Process all the ingredients until they're smooth and well combined. Next, form the mixture into 14 patties (about ¼ cup of mixture for each patty) and heat the olive oil in a skillet over medium heat. Fry the patties until fully cooked, about 4 minutes on each side.
When the patties are ready, place them in the buns and decorate with salad, tomatoes, etc.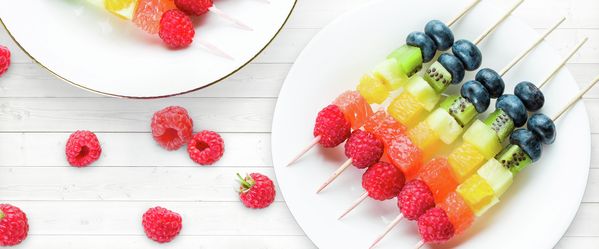 Rainbow fruit skewers.
Does this situation sound familiar? You bought fresh fruit from the market but your children would rather have a bowl of ice cream than a fresh juicy apple. Our vitamin packed fruit skewers are a colourful way to get your children to eat more fruit.
Per 4 servings
8 blueberries
4 red grapes
4 green grapes
4 peeled kiwi fruit chunks
4 peeled pineapple chunks
4 cubes peeled mango
4 pieces tangerine
4 strawberries
4 raspberries
Preparation
Take 4 wooden skewers and put the fruits in the following order onto each: Two blueberries, one red and one green grape, one peeled kiwi fruit chunk, one peeled pineapple chunk, one cube peeled mango, one piece of tangerine, a strawberry and one raspberry. Bon fruit-appetite!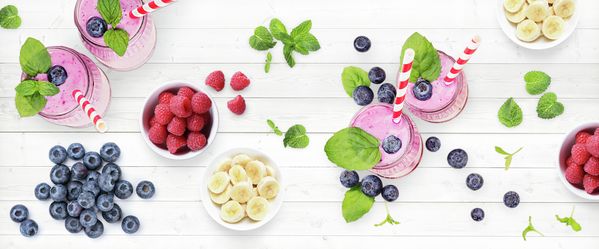 Mango & banana smoothie.
Start the day with your kids the healthy way with a nutritious smoothie from mango and bananas. One cup of sliced mango supplies 25% of the needed daily value of vitamin A while banana is packed with energy-giving carbohydrate. This healthy smoothie is the ultimate kick-start for the day. And not just for the kids!
Per 4 servings
1 cup cubed peeled ripe mango
1 banana, sliced
⅓ cup yogurt (or (plant-based) milk)
1 teaspoon honey
Combine all the ingredients in a food processor or mixer. Blend for 2 minutes until the smoothie is thick, creamy, and lump free. Check its consistency and add more milk until you reach your preferred consistency. Last, but not least, enjoy the start of the day with your kids!