Like a Pro: How to master your new OptiMUM kitchen machine
For every task, the perfect accessory.
Whether you're baking a cake or preparing a three-course meal, whatever you're doing, with your OptiMUM kitchen machine you can be sure of perfect results,. And with its versatile accessories, your OptiMUM can create an even wider range of recipes from light meringues to dough – all at the touch of a button. Learn more about how to master fine baking goods, delicious pasta, Italian pesto or healthy vegetables with your OptiMUM and its multi-talented accessories.
Preparing dough at the touch of a button.
65 years of experience are simply the best recipe. The powerful OptiMUM is the model assistant and, with its integrated scales and intelligent automatic programmes, gives you perfect results for any baking idea at the touch of a button. For the perfect cake mixture put 3-4 eggs, 200-300 g sugar, 1 pinch salt, 1 sachet vanilla sugar or peel from ½ lemon, 200-250 g butter or margarine, 500 g flour, 1 sachet baking powder and 150 ml milk in a bowl. Then mix all ingredients with the professional flexible beating whisk for approx. ½ minute at setting 1 and then approximately 3-4 minutes at setting 5.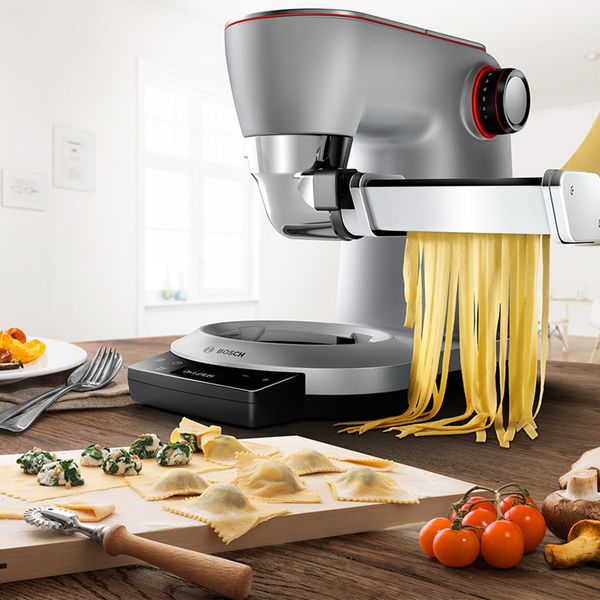 Preparing pasta at ease.
With the help of the PastaPassion accessory kit you can easily prepare tagliatelle or even lasagne sheets – for delicious homemade pasta. Just prepare your noodle dough, roll it into smaller strips and set the selection button to position 8 and feed the dough strips through the rollers until the surface is smooth. Then gradually move the selection button from position 8 to the required thickness and feed the dough through the rollers. For lasagne the optimal thickness is at position 3–4, while 1-2 is best for tagliatelle. When your pasta is ready, you can boil it right away or dry it for storage.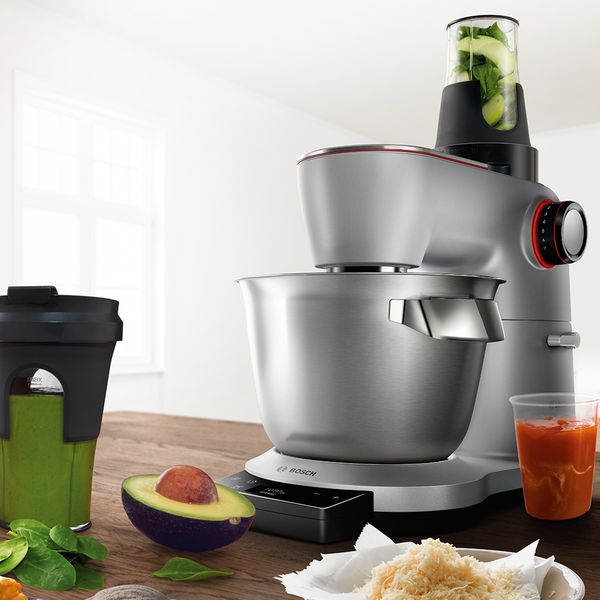 Pesto in almost no time.
Who'd say no to a delicious plate of pasta with homemade pesto? The TastyMoments-accessory set grinds herbs, grains, nuts or garlic. Mixing, grinding, blending; additional containers and matching lids for easy storage of processed spices, herbs and food make this accessory particularly practical. For the perfect homemade pesto just put pine nuts, garlic, salt and parmesan cheese in the smaller container and attach the cutting blade. Mix for 15 seconds on setting M and add basil and olive oil afterwards. Combine everything for another 10 seconds and your homemade pesto is set. The best thing: if you want to take it into the office with you – it's perfect for making smoothies – just put it in the optional ToGo container.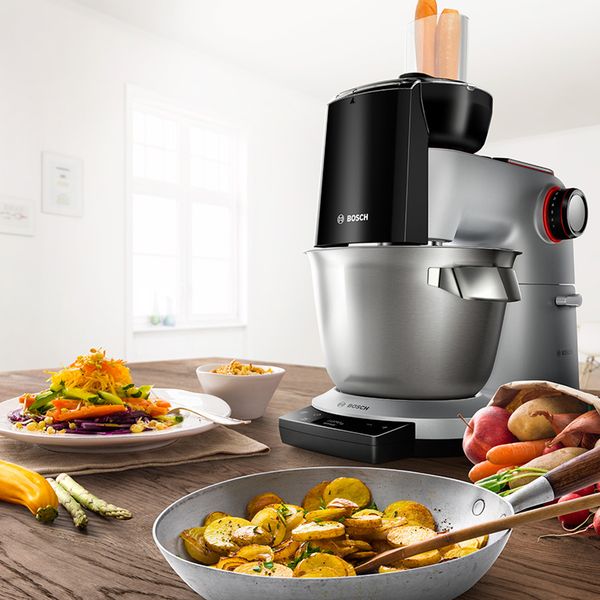 Slicing vegetables faster than any chef.
The five extra discs of the VeggieLove accessory kit bring vegetables and all kind of fruits into shape. Beet salad, hashbrowns or Asian dishes? With the VeggieLove accessory kit they not only taste delicious but are prepared in no time at the touch of a button. With the reversible cutting disc, fruits and vegetables are sliced easily while the reversible shredding disk can be used to shred them into smaller pieces. With the grating disc, you easily grate raw potatoes for gratin or hard cheese such as parmesan. When you're preparing Asian dishes and need fine vegetable strips just use the Asian vegetable disc to save a lot of time and effort.